It is recommended to do your homework in a word processor, such as Microsoft Word or Open Office, and then paste it onto the Bridge.
Why do we suggest this? Well, there are several situations that can cause you to lose your work permanently if you type it directly into the Bridge. What do we mean by this? Here is an example:

You worked long and hard typing up your response for an assignment on the Bridge and suddenly you get kicked out. This is a security measure.  After a certain period of time on the Bridge without any activity (and typing in the Assignment Text box does not count), you get kicked out of your session.  This is standard to any website that contains personal information.  You will avoid lost work, time and frustration by simply typing your homework in a word processor first.
Here's a second scenario:  What if your internet connection is lost while typing your homework? Once again, you would lose your work. Writing it on a word processor is the safest way to make sure your hard work receives credit the first time.
Finally, by typing in a word processor, you are able to keep a copy of your work for your personal reference. 
So how do you do this?  Well, it is an easy process.  Once you have completed your work in the word processor, there are three easy steps.
Select the "paste from word" option in the assignment text editor.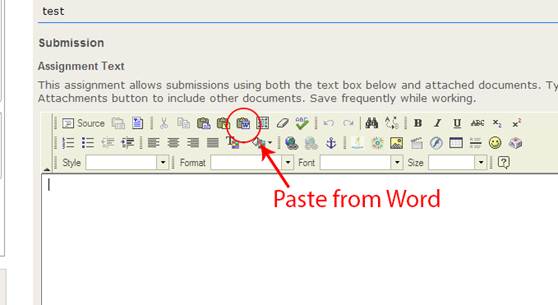 Highlight all of your text in your word processor, right click on it, and select "Copy"


Paste the text that you copied from your word processor into the Bridge by right clicking and selecting paste, or using the shortcut Ctrl+V, in the Assignment Text box. Your text should show up with the same formatting you used on your word processor. Once you verify everything is fine submit your work.
Alternatively, your professor may allow you to upload word documents directly into the homework assignment.  Either way, make sure that you are protected from unnecessarily lost work.